Welcome to Bikram Hot
Yoga
Vancouver East to West
Newsletter
!  Find information on postures, SALES, class schedule updates plus much much more!
Our staff and teachers are dedicated to providing you with an exceptional Hot Yogaexperience. Please feel free to contact us with any questions or feedback you may have!
We hope you enjoy our May Newsletter!
Introducing Core 40!!!
Take your practice to the next level with our Intermediate Core 40 class. Core 40 includes all 26 of our Bikram postures and then kicks it up a notch as we introduce 14 new postures!
Come and take advantage of a new way to challenge your practice. Core 40 is included for annual and auto-monthly members and a $20 drop in for non-members.
Where: Bikram
Yoga
Vancouver, WA – Westside Studio
             616 NE 81st Street, Vancouver, WA
When: Starting Friday,
May
6th, 12pm – 1:30pm
Posture of the Month
Full Locust ~ Poorna Salabhasana
Full locust is one of the most difficult postures to improve in the Bikram
Yoga
series. Part of the Spine Strengthening Series, Full Locust triggers and strengthens the mid-spine helping to prevent lower back pain.  It is also effective at strengthening and toning the hips, buttocks, abdominal muscles and upper arms.
From a belly down position on the towel, bring your chin forward on your mat and towel. Stretch the arms out to the side in line with the shoulders like airplane wings, palms down with all five fingers together. Bring the feet and heels to touch, feet flat on the floor and legs tight, contracted, one-piece start to finish, like a cobra's tail.
Exhale completely to empty the lungs, then take an inhale breath and take off! Lift arms, legs, chest, head, torso, everything up off the floor and balance on the hip bones. Keep the feet and heels together and lift the gaze upward towards the ceiling to direct the whole body to lift. Draw the arms up and back with the fingers in line with the top off the head like the 747 taking off. Balance on the hip bones with everything else up in the air.
To arch the body more, use the back muscles, keep the legs and arms straight and engaged and use your core strength. Keep flying, keep breathing, and hold the posture at your maximum practicing Bikram's 80-20 breathing, filling the lungs 100% prior to the 'lift off' and then, while in posture, holding the lower 80% of the lungs full helping to buoy the body up, while taking quick sips of breath off the top 20% of the lung.
Slowly release the posture, with control, and return to Savasana and relax.
Benefits: Full Locust increases strength and flexibility to the middle spine improving scoliosis, kyphosis, spondylosis and slipped discs. The posture opens and increases the elasticity of the ribcage as well as firms the upper arms, hips, thighs and abdominal muscles. The posture strengthens the deltoids, trapezius and triceps muscles as well as improving the function of the liver and the spleen.
Meet your fellow Yogis!
Your
yoga
community is filled with talented, friendly, inspiring and amazing people (including yourself 🙂 ).  Maybe you have had the opportunity to meet some of them.  If not each month we will be introducing you to a couple of them.  We encourage you to get to know your fellow yogis!  Get to know the people you sweat with!  We all have at least one thing in common, we love this
yoga
!
MEET KATY!
Hi Everyone! My name is Katy Atwell and I love to be inspired! I am inspired by humans striving to be better (that is you classmates!), the presence of animals and what they teach us and living in a chemical free home.
I am a veterinary technician and practice manager at Orchards Veterinary Clinic. My husband, Eric, is a wonderful veterinarian. We have both been in the veterinary field for over 30 years. We believe in providing humans and their animals compassionate, common sense health care, therapies and training to help them live better lives. We have both seen and felt the profound difference animals can make in our existence and love to see and assist others to experience the same.
As odd as this may sound……I am also inspired by clean toilet bowls and windows! Let's face it, it feels good to live in spiffy, sparkley surroundings! I am on a Norwex team with my friends Gail and John. We love to share our knowledge of the products and encourage others to reduce the chemicals in their homes. Who knew you could clean and maintain your home with awesome microfiber cloths and just water!? To schedule a consult please visit http://www.norwex.biz, click on "connect with a consultant" and enter my name (Katy Atwell).
AND I AM INSPIRED BY YOGA! I am so grateful to all of our wonderful teachers that lead us through class and encourage us to be better and do better inside and outside of the hot room. There is nothing like it for stress relief, grounding and solution finding missions! Whenever I am seeking a solution/option/possibility to a situation in my personal or professional life, I bring it to the mat. Within those awesome 90 minutes (usually by rabbit pose) my mind will clear enough and viable solutions pop in. I LOVE THAT! And I love practicing with all of you!
Family
Yoga
Starting
May
15th!
Please plan on joining us Sunday,
May
15th from
1-2pm
 at our Westside Studio for Family
Yoga
! Bring your children (ages 6+) and your parents for 60 minutes of unheated
yoga
! Free to annual and auto-monthly members. $10 drop in for the kiddos. $15 drop in for non-members.
Where: Bikram
Yoga
Vancouver, WA – Westside Studio
             616 NE 81st Street, Vancouver, WA
When: Starting Sunday,
May
15th, 1pm – 2pm
Ida Ripley Seminars and Classes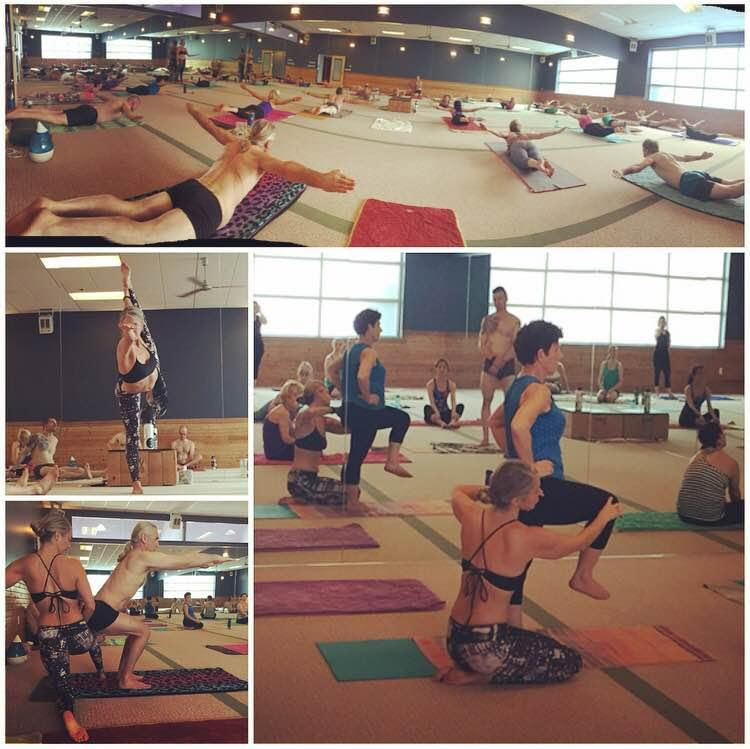 We had such an amazing time last month hosting the Ida Ripley Seminars and Classes! What an experience! We feel so lucky and truly grateful for the opportunity!
Thank you to all that came out and most of all, thank you Ida for sharing all your knowledge with us! We look forward to seeing you next time your in our little neck of the woods!
Did you know BYV has a Work Trade Program?
Believing that
yoga
should be available to all, here at Bikram
Yoga
Vancouver, we have a Work Trade Program in place for those that struggle with the financial obligation. We currently have several cleaning positions available. In exchange for one weekly cleaning shift, receive unlimited
yoga
. It's just that simple!
We look forward to seeing you in the HOT room!  Remember half the battle, sometimes more, is making it to the studio.  Your body will know what to do from there!
See you tomorrow!
Bikram Hot
Yoga
Vancouver
Eastside Location (Same Complex as Big Al's)
1801 SE 164th Ave Ste 109
Vancouver, WA 98683
Westside Location (J & M Plaza, same as ROSS and Safeway)
616 NE 81st Street
Vancouver, WA 98665