Read on to learn more about:
Yoga Asana competition in November
Studio End of Summer Potluck and Ashtanga class
Meet your fellow Yogi
Senior Teacher class on September 11
Triangle Pose
Kombucha now available in studio!
Welcome to the Bikram Hot Yoga Vancouver Newsletter!  Find information on postures, SALES, class schedule, updates, plus much much more!
Our staff and teachers are dedicated to providing you with an exceptional Hot Yoga experience. Please feel free to contact us with any questions or feedback you may have!
We hope you enjoy our August Newsletter!
It's Yoga Asana Competition Season!!!
Want to be a part of something fun? Interested in sharing your love of yoga, inspiring your community, or maybe just demonstrate that posture you have been working 'oh so hard' on? Please plan on joining us
Saturday, August 20th, 7:30pm
, for an informational potluck at Dara's house.
On the fence? Come anyway! Yoga Asana Competition is not about who is the most flexible. Learn more and decide from there!
What: Informational Yoga Asana Competition Potluck
When:
Saturday, August 20th, 7:30pm
Where: Dara's House
BYV Summer Picnic ~
Saturday, August 27th
Please plan on joining us
Saturday
, August, 27th, for one last summertime 'HOORAH'!!! We will provide burgers and dogs plus all the makings and you bring the rest!!! There will be a sign up in the lobby this week. Picnic starts at
4pm
and be sure to bring your yoga mat as we will be having a fun 'yoga in the park' intro to the Ashtanga series with Allie starting at
4:30pm
! It's going to be a blast so be there!!!
What: BYV Summer Picnic & Potluck
When:
Saturday, August 27th, 4pm
, Ashtanga w/ Allie at
4:30pm
!
Where: Fisher Basin Park, SE 192nd Ave., Vancouver
 Bring; Your fabulous self, a yoga mat and a dish for the potluck!
Class with Senior Teacher Teri Almquist
Sunday, September 11th, 4:30pm
It is with great honor and privilege we bring Senior Teacher Teri Almquist to you! Please mark your calendar and plan on being here
Sunday, September 11th, 4:30pm
class.
What: Class with Senior Teacher Teri Almquist
When:
Sunday, September 11th, 4:30pm
class
Where: Bikram Hot Yoga Vancouver
Cost: $30 for members; $40 for non-members
Teri has been a certified Bikram Yoga Teacher since Spring 2005 and studio owner of Bikram Yoga Merrimack Valley since 2008. She excels at mentoring teachers and students from all over the globe for her expertise in healing injured bodies through yoga. You don't want to miss this one!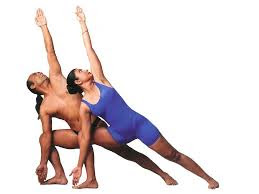 Triangle pose is the midway point of class, the peak of the mountain of the standing series, and works 100% of the body. To start, bring your arms up over the head sideways; step out to the right, a big step, four feet minimum and bring your arms down immediately parallel to the floor with palms facing down.
Look straight ahead in the mirror. Push the hips forward, lean your upper body back. Turn your right foot out to the right. If needed, turn it a half inch more until the foot is exactly parallel to the front mirror and your two heals in one line.
Inhale breathing, bend the right knee and sit down. Bounce a couple of times like a motorcycle ride to make sure you're sitting down low enough. Your right thigh should be parallel to the floor. In the front mirror your right leg should look like a perfect upside-down letter 'L'.  Make sure your hips do not go back up. One more time, hips forward, arms back, body back, lean back, open your chest, spine straight in the center.
Inhale breathing, turn your palms to the mirror and move your both arms at the same time, right elbow in front of the right knee and fingertips between the big and second toe with no pressure on the fingertips against the floor. Look up towards the ceiling and touch your chin to the left shoulder so the profile of the face is exactly visible in the front mirror with the crown of the head in line with the spine and neck.
Take a deep breath and continuously stretch your left arm up to the ceiling while the right arm stretches down. Your both arms, shoulders, should be stretching each other up and down in opposite directions like natural human traction.
Push your left hip forward towards the mirror. At the same time, push your right knee back with the help of the right elbow. Turn or twist your upper body back like Spine Twisting posture. Keep your left knee locked and left foot flat on the floor. Inhale breathing, come up, stop in the middle, turn your right foot back to the center, keep your arms there and repeat left side.
Benefits: Triangle pose is a great cardiovascular workout. It opens and increases the flexibility of the hip joints and reduces saddle bags. Triangle is good for the kidneys, thyroid and adrenal glands. It opens the shoulder joints and is good for frozen shoulder. It strengthens and tones the legs and gluteal muscles. It helps to regulate hormone levels. Works all muscular groups simultaneously. Helps with constipation, colitis, low blood pressure, appendicitis, spondylitis and menstrual disorders.
Meet your fellow Yogis!
Your yoga community is filled with talented, friendly, inspiring and amazing people (including yourself 🙂 ).  Maybe you have had the opportunity to meet some of them.  If not each month we will be introducing you to a couple of them.  We encourage you to get to know your fellow yogis!  Get to know the people you sweat with!  We all have at least one thing in common, we love this yoga!
MEET LISA!
I am not what you would call an ideal candidate for hot yoga. I am a 52-year old menopausal woman with miserable, intermittent, drenching hot flashes. The thought of stepping into a 105-degree room, let alone struggling to twist my body into incomprehensible shapes for 90 minutes while in that heated room, was not something I thought I'd ever willingly sign up for.
That changed in November of 2015. My husband, Peter, and I had recently changed to eating a whole food plant based diet and we felt great.
In 6 months
I had easily lost 25 stubborn pounds that had been bothering me for years. I was thrilled about the weight loss, but my goal was health. I knew in order to be healthy and continue to lose the extra weight I still carried, I needed to include some form of consistent exercise.
As I pondered and rejected the unsustainable forms of exercise I'd tried in the past (things like; running, walking, barre3, soccer, hiring a personal trainer, joining a gym, etc.), I watched my husband quietly get up at
5 a.m.
to go to hot yoga three times a week. He looked so content and refreshed each morning and throughout the work day (we work together). He was excited to talk to me about his experiences with hot yoga — and wise not to pressure me into going with him. I listened but was not moved to try it myself.
That was until I overheard a respected colleague advising a client that, "in order to achieve your goals, sooner or later you have to do something you don't want to do". It immediately hit me. Here I was trying to achieve health and optimum weight but I was dragging my feet when it came to making the necessary changes to incorporate regular exercise. When I asked myself what I didn't want to do, the first thing that popped into my mind was HOT YOGA!
So off I went. Peter tried his best to prepare me for the heat and the class format. I expected to try it three times and conclude "it's not for me" and pat myself on the back for trying something new. To my surprise, by the third class I can honestly say I loved it.
Yes, having hot flashes in a hot room sucks. But the truth is having hot flashes anywhere sucks. At least I'm already sweaty and don't have to hide it in the hot yoga studio.
For me, the benefits of yoga far outweigh any temporary discomfort caused by having a hot flash. I've noticed changes in my balance, coordination, flexibility, strength, and muscle tone. Scientific studies have shown that people who practice yoga regularly experience measurable health benefits which may include the lowering of; blood pressure, cholesterol and BMI. [1]
As an acupuncturist and holistic health care provider, I prefer and recommend natural forms of preventative medicine that recognize the body-mind connection. Hot yoga is a form of therapeutic exercise that fits nicely with this approach to health.
As of this writing I've been going to hot yoga with Peter three mornings a week for the past 7 months. I look forward to the classes even when getting out of bed at 5 a.m., which is difficult. I always look forward to learning from the yoga instructors. Their dedication, enthusiasm and commitment along with their gentle but firm words of encouragement make me feel like anything is possible.
I like that they encourage us to be curious. Ask ourselves, what body did I bring to class today? They guide and prompt us to adjust our awareness. Don't judge. Let go. Breathe. These are all life lessons, rolled into one hot, sweaty 90-minute class. And in those instances when I do have an intense hot flash, I find my focus is less and less on relieving the heat from my body and more and more on stretching my mind to move beyond my body. There is a comforting freedom in those rare moments when I'm able to be present in that space.
The pervasive myth that menopausal women can't possibly tolerate hot yoga needs to be exposed so more women are inspired to give it a try. The worst that can happen is you feel really, really, REALLY hot. But that's happening anyway. So you might as well take advantage of the benefits of yoga.
Plus, I've learned that being in a room surrounded by a bunch hot, sweaty people who care about their health (and who don't care that I'm a little hotter and sweatier), is a very liberating experience!
NOTE: I'll be doing an informal online class (Google Hangout) called "Hot Women In Hot Yoga!" for menopausal women who are interested in learning more about the challenges and benefits of hot yoga, acupuncture and plant based eating. You are invited to join me in the discussion, ask questions and offer insights. It's free and sure to be fun! Register here:
http://events.pointsoforigin.com/menopausal-women-event-registration/
Lisa and Peter Hanfileti own and operate Points of Origin, PLLC, a holistic health care clinic providing acupuncture and private health consultation services. For more information you can go to their website at
http://pointsoforigin.com
. They live in Vancouver with their dog and 2 cats and are delighted to be part of the hot yoga community. Namaste!
[1] Chu P, Gotink R, Yeh G, Goldie S, Hunink M. "The effectiveness of yoga in modifying risk factors for cardiovascular disease and metabolic syndrome: a systematic review and meta-analysis of randomized controlled trials." Eur J Prevent Cardiol published online ahead of print 2014; DOI:10.1177/2047487314562741.
Mark your Calendars… Regular Class Schedule Returns
September 1st
With the near conclusion of summer, BYV prepares to return to it's regular, non-summer, class schedule. Mark your calendars!!! All traditional 90 Minute Bikram Yoga Classes, plus a couple fun additions!
Monday:
6am
,
9:30am
,
Noon
,
4:30pm
,
6:30pm
Tuesday
: 
6am
,
9:30am
,
Noon
,
4:30pm
,
6:30pm
Wednesday
: 
6am
,
9:30am
, N
oon – Core 40,
4:30pm
,
6:30pm
Thursday
:
6am
,
9:30am
,
Noon
,
4:30pm
,
6:30pm
Friday
:
6am
,
9:30am
,
Noon
,
4:30pm
,
6:30pm
Saturday
:
8am
,
10am
,
4:30pm

– Ashtanga
Sunday
: 
8am
,
10am
,
4:30pm
Have you seen it?! We've got a Soma Kombucha Kegerator!!!
We are pleased to announce that BYV now offers Soma Kombucha on tap!! That's right… we now have a two tap kegerator!!
Kombucha is a delicious probiotic drink recognized the world over for its energizing, detoxifying and health supporting qualities. It's great for digestion, immune system boosting, hormone regulating, joint care, and mental functioning. It's been around for thousands of years and extensively studied.
Next time you're in the studio give our new 'Booch' a try!! Offered in a vaiety of sizes… pint size cups available or refill your hydroflask on the way home!!
We look forward to seeing you in the HOT room!  Remember half the battle, sometimes more, is making it to the studio.  Your body will know what to do from there!
Bikram Hot Yoga Vancouver
Eastside Location (Same Complex as Big Al's)
1801 SE 164th Ave Ste 109
Vancouver, WA 98683